What are the Portrait Masters awards and accreditation?
A couple times a year, The Portrait Masters opens image submissions. The point of this is for photographers to get feedback on their images and grow in their creativity and skill. A panel of 13 judges reviews anonymous images and assign a score from 0-100. Depending on the score that the image receives, there is a merit that goes along with a certain score. Images with a score of 70-79 receive bronze merit (75-79 is bronze with distinction), 80-89 get silver, and 90-100 get gold.
Not only do images get a score from 0-100, but images with merits earn points toward photographer accreditation. Bronze with distinction gets 0.5 points, silver gets 1, and gold gets 2.
Accreditation points and status
Accreditation is important to build your credibility as a professional photographer. There are three levels of accreditation: Associate, Master, and Fellow. Associates have at least 25 points, Master with 50 points, and Fellow with 100 points with at least 10 silver awards. Once you reach Associate level, you're allowed to create a profile that will be displayed on the "find an accredited photographer" tab on Sue Bryce Education. This is a huge opportunity to start getting recognized in your profession and growing your business.
Saray Taylor-Roman is one of 14 Fellow photographers in the world. Her work is consistent and of professional standard. Not only that, but her images are also beautiful and inspiring; she is a prime example of an extraordinary photographer. This along with her hard work and dedication earned her Fellow status.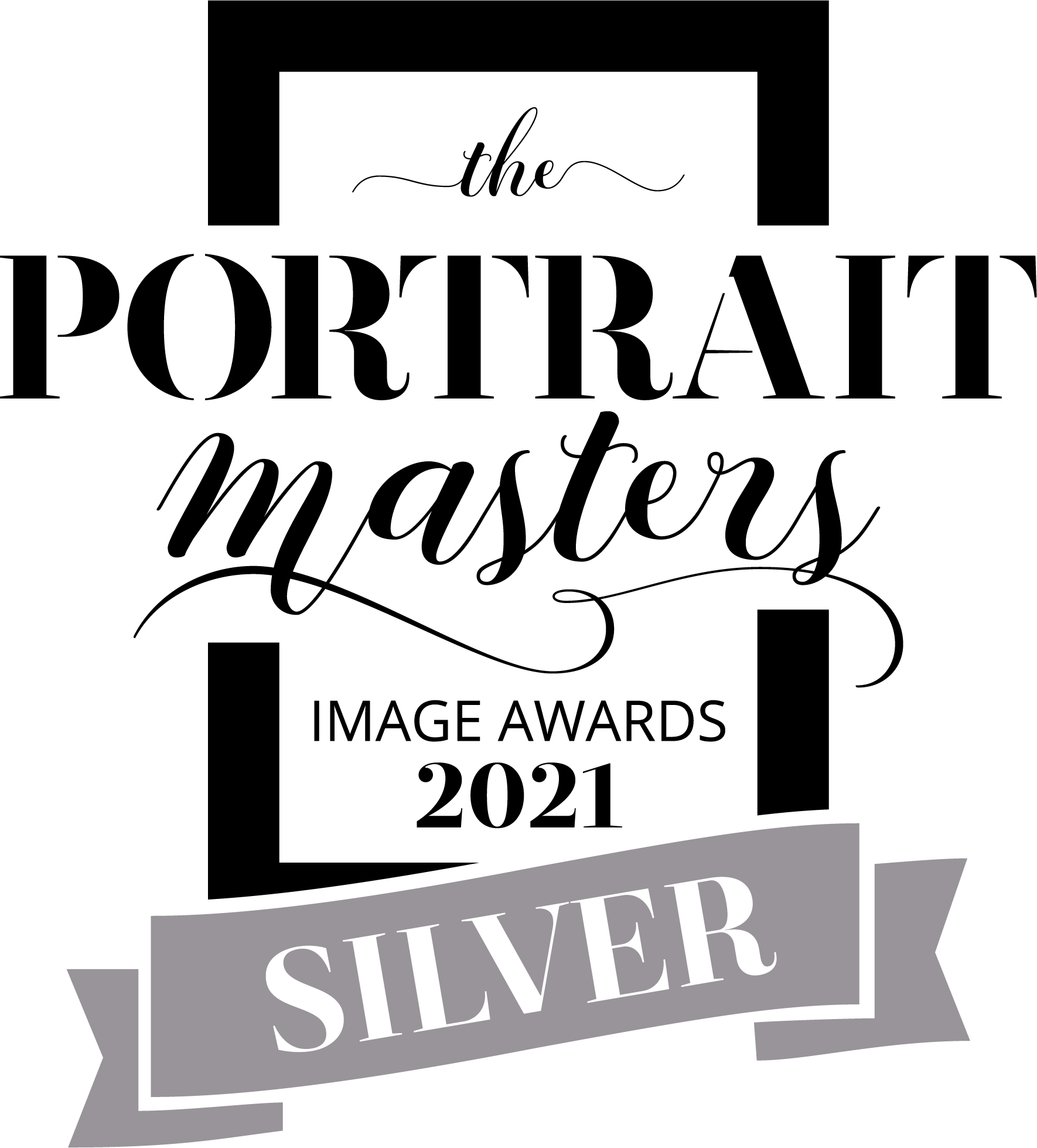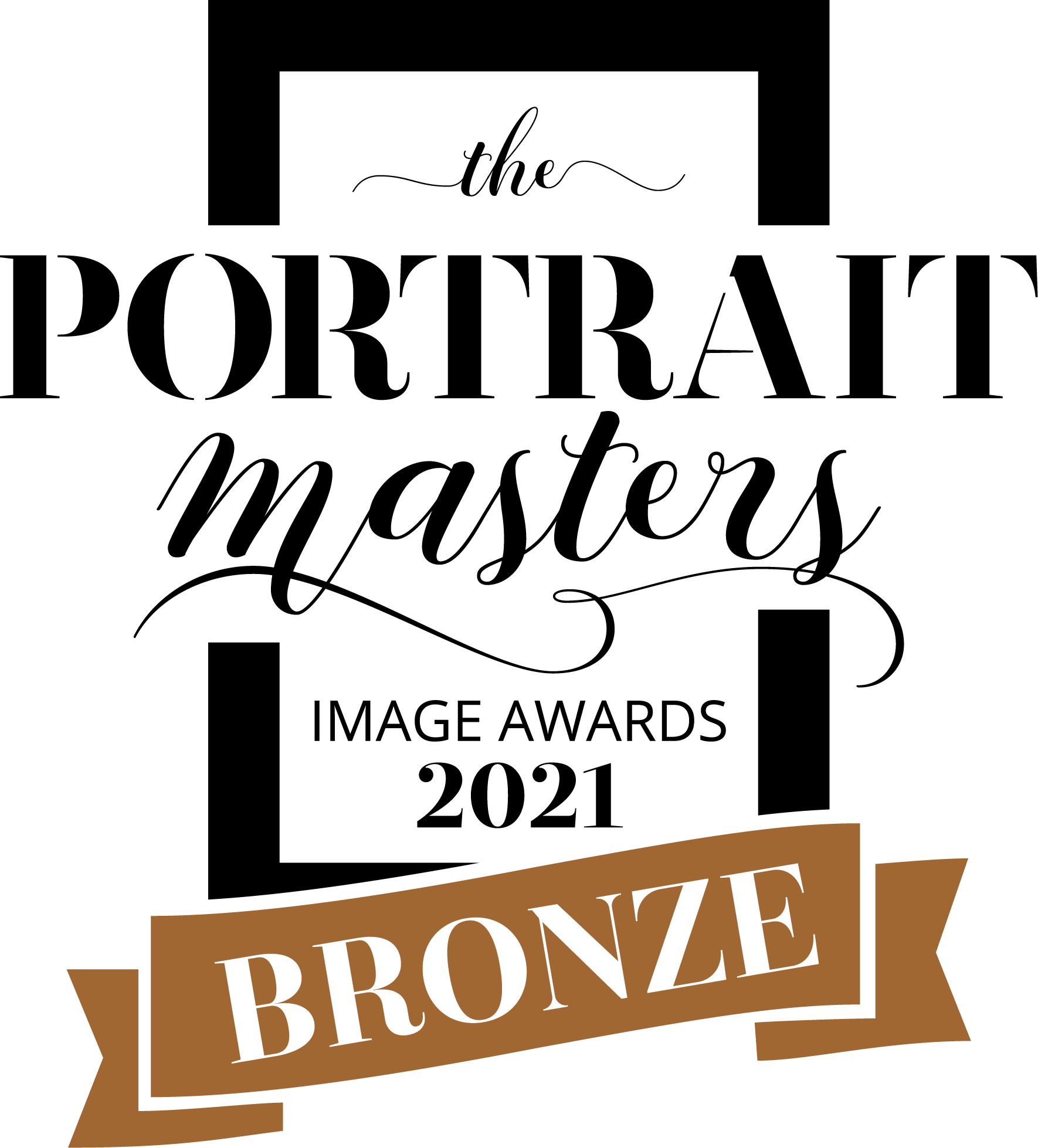 Saray gives insight into her recent image submissions
Where do you get your inspiration?
"My inspiration definitely comes from everywhere. For example, in the first image, I drew inspiration from my favorite place: the ocean. I was born in Veracruz, Mexico which is a state that borders most of the Gulf of Mexico, and from the fabric toss to the way the hair was designed to the color palette, it's about recreating the movement of the waves and the sea breeze against your face.  For the second image, it literally started as an idea to photograph a huntress after watching Brave with my 8-year-old daughter. I even ordered a bow and arrow, and I borrowed the taxidermy deer from my brother-in-law. The crazy thing is how the concept changed when we added deer horns to the wig, and she no longer was a huntress but maybe an advocate of sorts for the deer. I don't know. What do you see there?"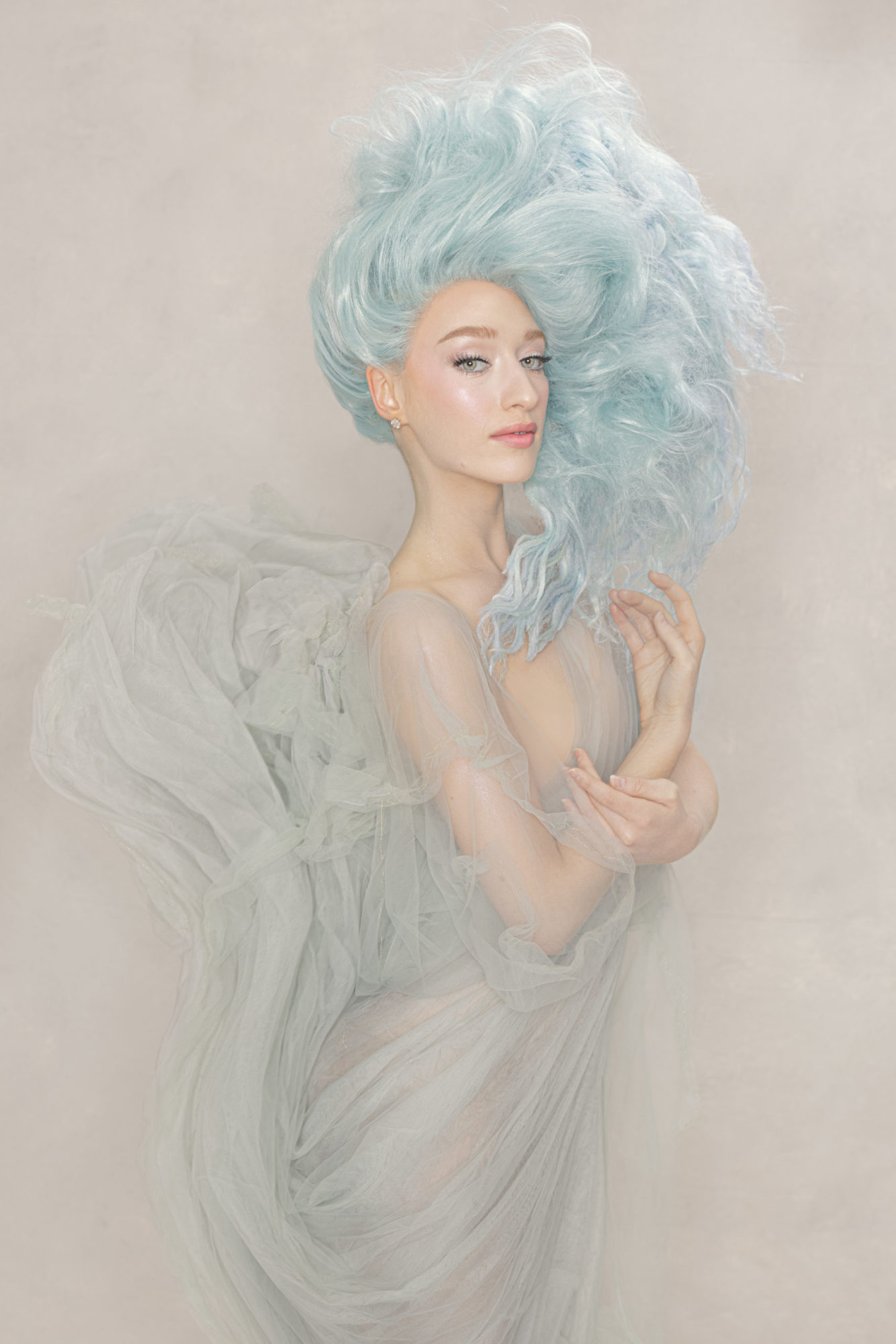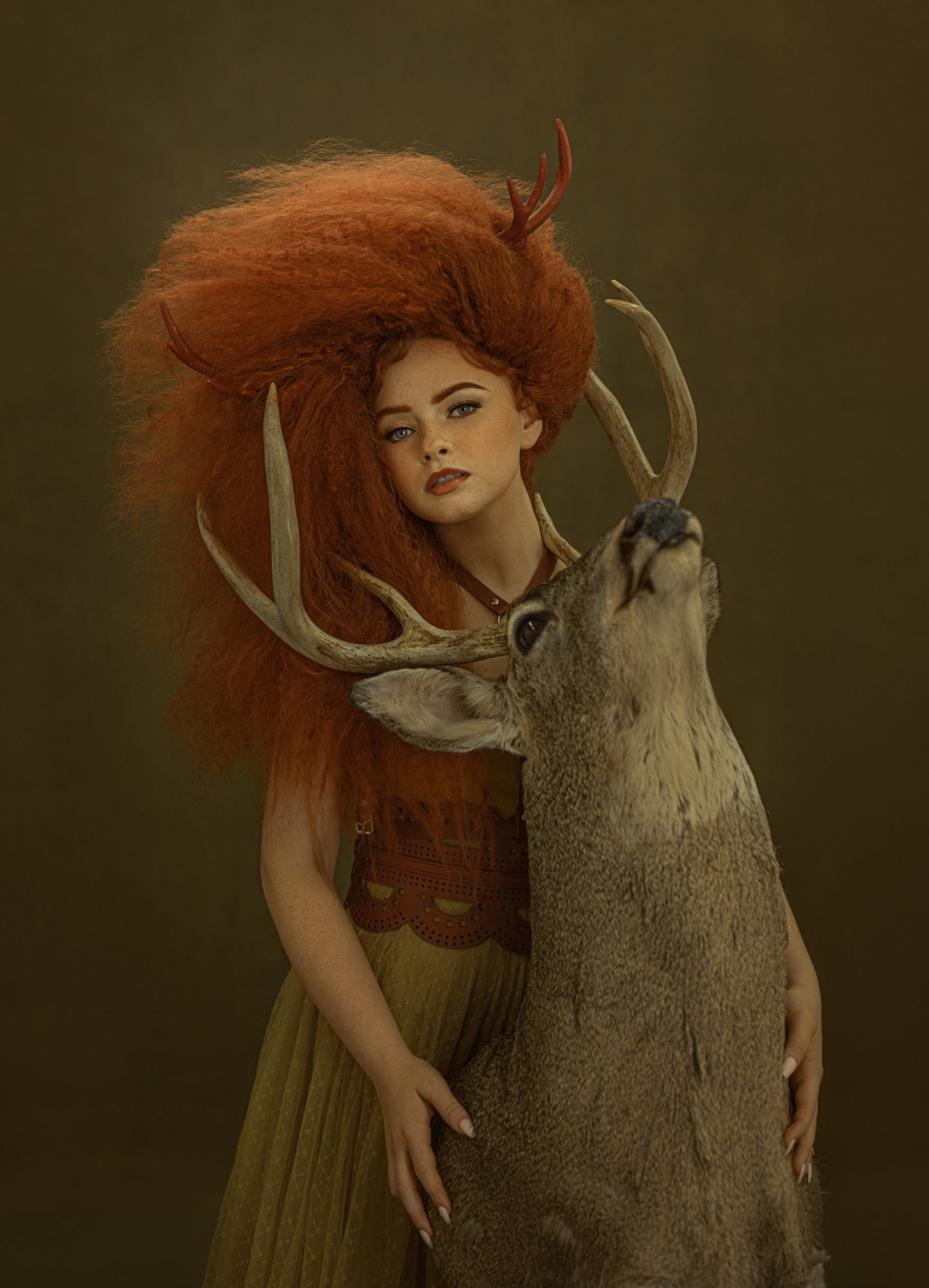 Talk to us about styling.
"Styling is probably one of my favorite parts of this whole process. As a child, when I played with dolls, it was to dress them up. I hand sewed outfits made of my mom's new tablecloths or curtains or bed sheets (I'm so thankful she never got upset at me when she suddenly discovered a hole in them). Now, I continue to do this with my clients! I mix and match from things I've purchased from eBay or local thrift stores like KARM or ReStore (the Habitat for Humanity store). If I think the sleeve or the collar or the overlay in one dress will be more versatile, I simply cut it off. Plus, I like to hot glue new elements onto corsets, dresses, or headpieces.
"For this awards and accreditation round, I worked in collaboration with Siobian Jones. She created the wigs we used, and I feel that working with people in your team who are super talented is key to elevate your own work.
"Alie Beth Johnson and Jeremy Wise are amazing makeup artists! Both were trained by Dior, and they are ridiculously creative. I bring the vision to them and then I ask them to work their magic. I love their input. For example, Alie suggested we use an iridescent highlighter on the dancer to add to the ethereal mood of the image, and I love how it photographed. Jeremy Wise suggested more bronze to highlight the autumnal color palette of the huntress. Again, it's one thing that brought together the tonal aspect of the image. Funny note here. After, we painted the horns on the wig to match that same palette, we used that same house paint to paint over the black leather on the Free People lace dress in marigold as well as the black leather BCBG belt we used. So, while most people would be afraid to "damage" beautiful pieces like I do, to me, they only are as beautiful as they are useful. Changing that color was the best move to complete that image."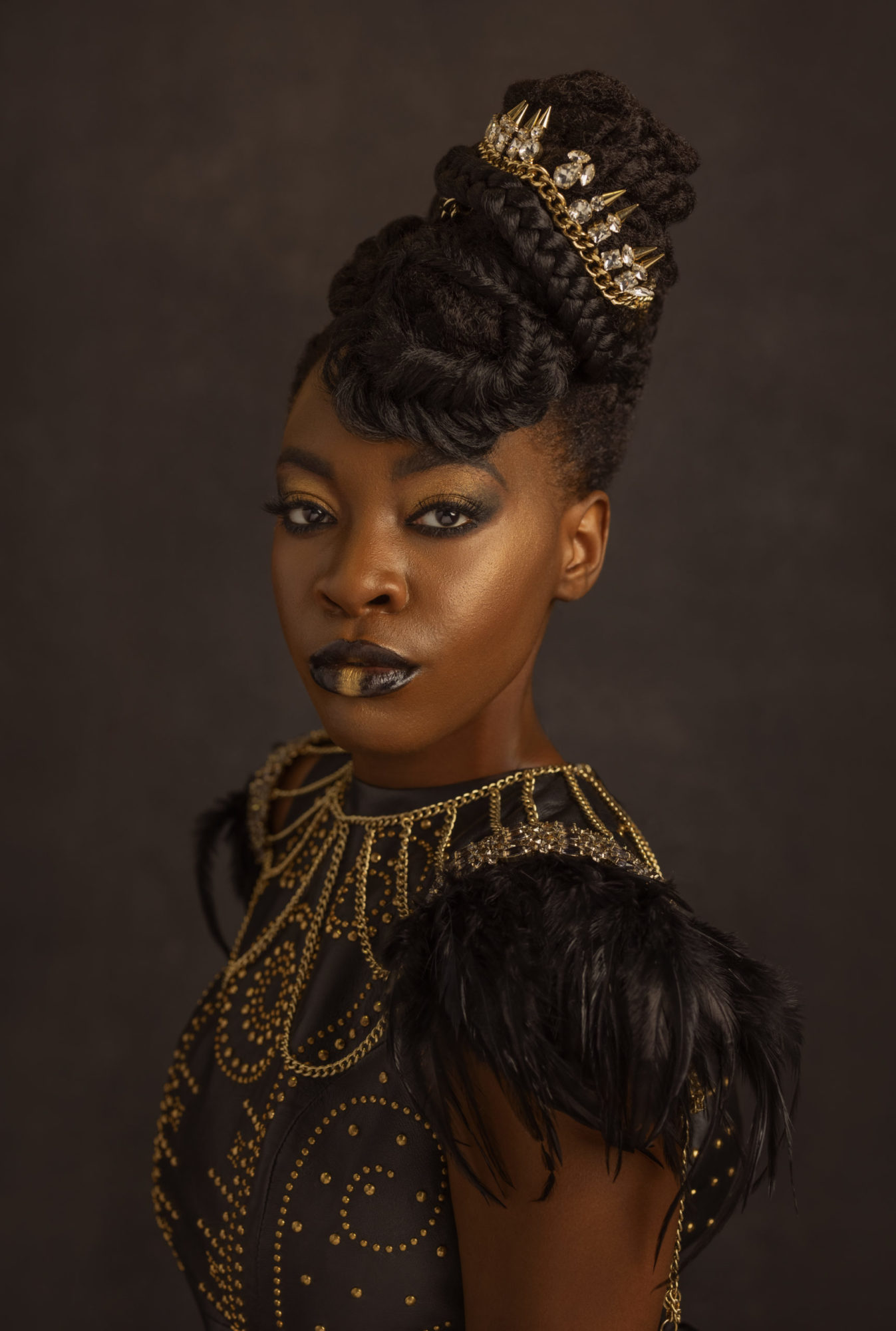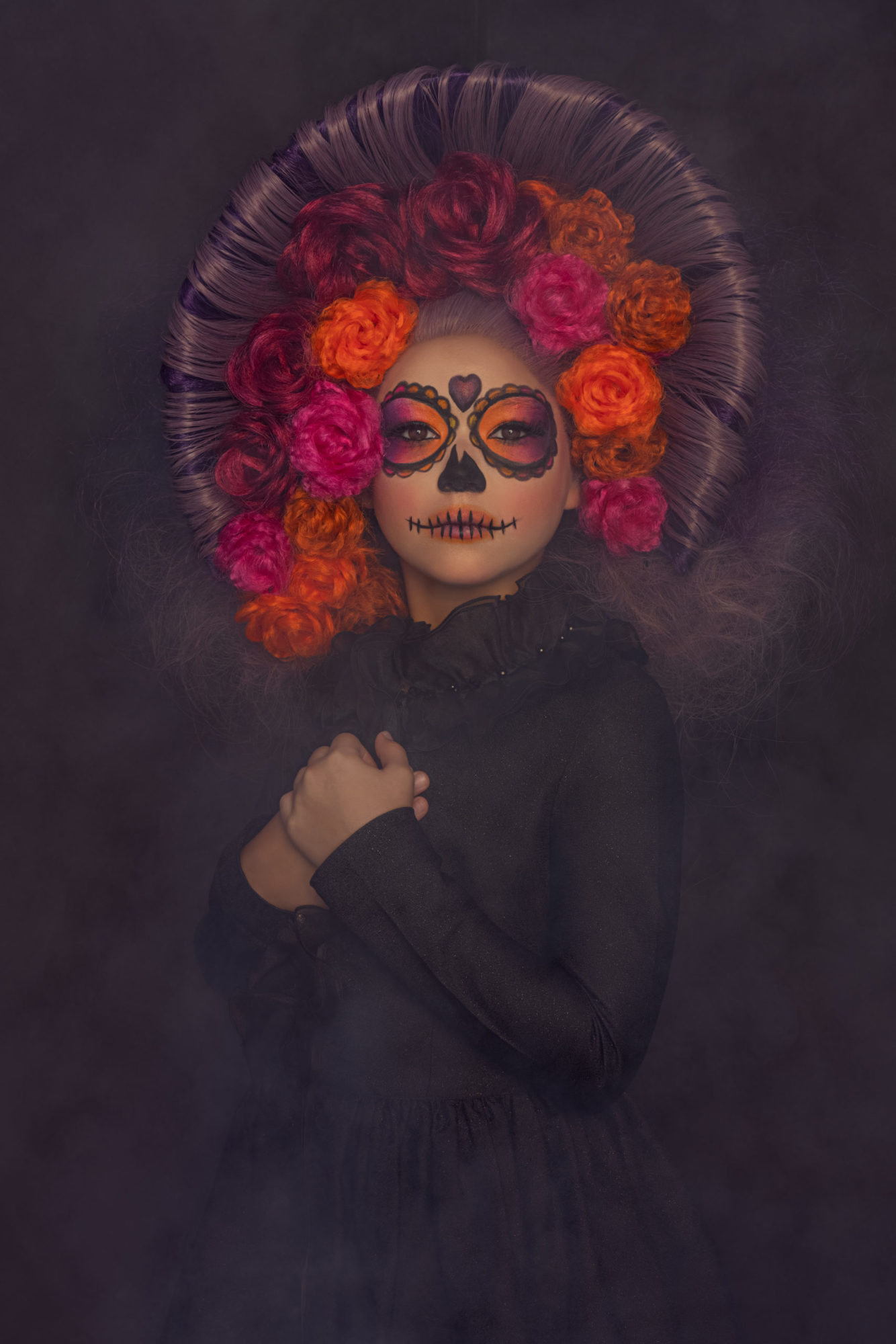 Do you think it's important to submit your work for accreditation and awards?
"You know, people tell me all the time, 'I thought you reached the highest level at The Portrait Masters awards.' And I did back in March of 2019 with over 50 silver merits even though the requirement is 10. At the time, I was one of three Portrait Masters who were awarded Fellow. The thing is accreditation is a way to continue to finesse my skills and to further challenge myself. I can only give my clients my best if I continue pushing my own boundaries. To me, that's why it's important that to submit my work to be judged anonymously by the best in the industry. To me, it's a tool for growth. The only one I'm in competition with is myself, and I want to always be evolving. Obviously, some of the perks are peer recognition and that also feels nice. But that's just the cherry on top. When just about 2% of all the images submitted earn silver, it feels good to know I've earned a few. And this round my silver image made it into the top 20 in the movement category."